BG6TOE 业余无线电台
Amateur Radio Station BG6TOE
对于大多数通联,我都将发送我的QSL卡,由于时间关系,我不经常有时间通联,因此我手上平时只留存很少的卡片,按需印制。也是因此,我对于某些情况不会发送纸质QSL卡片,如不太远的FT8模式等,这种情况,如果你在你的QRZ.com主页上留有邮箱,我将发送一份电子版卡片到您的邮箱留作纪念,当然,电子版的程序我还需要一段时间的编写,它将在最近完成。
For most of the contacts, I will send my QSL card. Since I have limited spare time, I don't always have time to communicate, so I usually only keep a few cards in my hand. Therefore, I will not send paper QSL cards in some cases, such as FT8 mode that is not too far away. In this case, if you leave a mailbox on your QRZ.com homepage, I will send a copy. The electronic version of the card is placed in your mailbox for commemoration.
对于发送QSL卡片的情况,我将按照您在QRZ.com上的请求来发送卡片,并附上SASE或者写有我地址的一张纸条。
In the case of a QSL card, I will send the card in accordance with your request on QRZ.com and attach a SASE or a note with my address.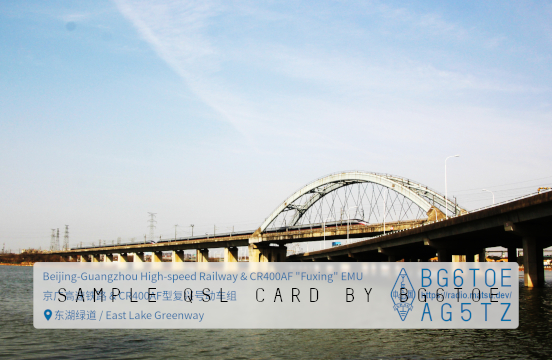 我的QSL卡片正面是一列复兴号动车组跑在京广高速铁路上,背面则仿照中国大陆铁路客票的样式设计。我一直认为,中国的铁路在中国历史上发挥了不可忽视的作用,早在清朝,铁路就扮演了重要的角色,而中国的若干变革也与铁路密不可分。因此我仿照国铁车票的样式,设计了我与众不同的QSL卡。
The front of my QSL card is the Fuxing EMU running on the Beijing-Guangzhou high-speed railway, and the back is modeled after the Chinese mainland railway ticket. I have always believed that China's railways have played an indispensable role in Chinese history. As early as the Qing Dynasty, the railway played an important role, and several changes in China were inseparable from the railway. Therefore, I designed my unique QSL card in the style of the China Railway ticket.
QSL卡的背面如一般的QSL卡一样,但是排版则依照车票样式放置了呼号、模式、时间、频率、信号报告等要素。而QSL卡的正面则与大多数卡片类似,是我在京广高速铁路的高架桥边上拍下的动车组列车。
The back of the QSL card is the same as the normal QSL card, but the layout is based on the ticket style, such as call sign, mode, time, frequency, signal report and other elements.
您可以扫描QSL卡上的二维码获得我最新的地址。
You can scan the QR code on the QSL card to get my latest address.